…info:
drumtalk is a show for all drum and music fans out there initiated by German drummer and filmmaker Philipp Koch in December of 2012. dumtalk's episodes are not just ordinary interviews about generic "how is the tour so far" topics, but rather a series of portraits shot with several pro cams and presented in high quality black&white. drumtalk is interested in the personalities of the artists, their reflections on rhythm, individual approaches to music and their philosophies to create an entertaining in-depth compilation on the art of drumming. drumtalk is a free to watch project to give some entertainment and inspiration to the drum community.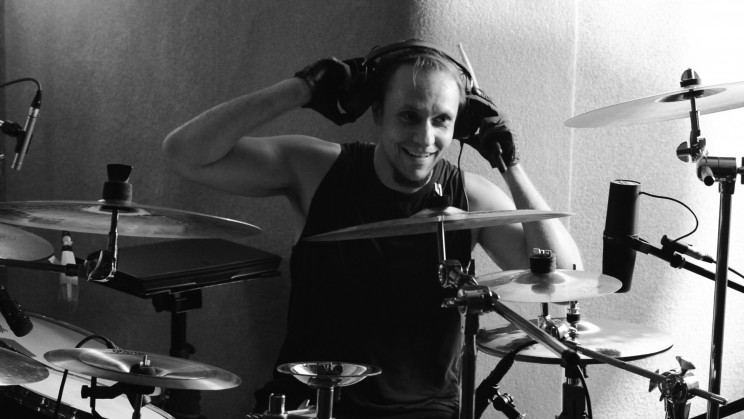 …bio:
When I grabbed my camera in the spring of 2011 and set out to a drum clinic with The Dillinger Escape Plan's founding member Chris Pennie, I really did not know exactly where it should go – just that I wanted to take the opportunity to get one of my major influences in front of the lens and thereby to lay a foundation for some kind of documentary about renowned drummers, preferably those who I really dig.
A good kickoff would be, I figured, to start with what stands for drummers at the beginning of each show: warm-ups. Since my routines have changed over the years since I always adapted them to the various requirements of the specific music I was playing at a certain time, this seemed to me a good start to both learn some useful chops from the pros, as well as revrealing some of their personalities.
As so often, you can only understand what you are actually doing while you are doing it. So it wasn't until I did three at best "spontaneous" episodes, that it became apparent to me that drumtalk should not be another series of instructional videos or regular interviews, but a fun and entertaining format, both varied and profound at the same time, to build up a compilation of individual perspectives on playing the drums.
With the maxim "original questions, rather than generic mishmash" drumtalk drills for you what the pros think of, dream about and still have to learn and how they have reached the point where they are now. I'm sure even the well-schooled out there will learn a lot from and about your favourite artists!